In May of this year, Dropcam launched the new hardware DropcamTabs, which is expected to expand the scope of monitoring and reduce alarm errors. It is expected to be shipped this summer. However, four months have passed, but this product has not been moving. When I opened the Dropcam website, I found that DropcamTabs had been removed.
DropcamTabs is a new product to enhance the use and monitoring range of Dropcam. This size sensor can be placed in doors, windows and other rooms to monitor areas that cannot be covered by the Dropcam lens. With this combination, Dropcam hopes they will provide more accurate and useful security monitoring services. DropcamTabs is connected to Dropcam via Bluetooth, has an accelerometer and magnetometer built in, and comes with a pair of button batteries for two years, available in black and white, for $29.
In fact, on August 1 of this year, Dropcam officially canceled the pre-sale order of DropcamTabs by email. The official explanation is: in order to develop better products for Nest and Dropcam. Regarding the matter of Dropacam discarding Tabs, I also chatted with Wang Xiangheng, the founder of CamPoint.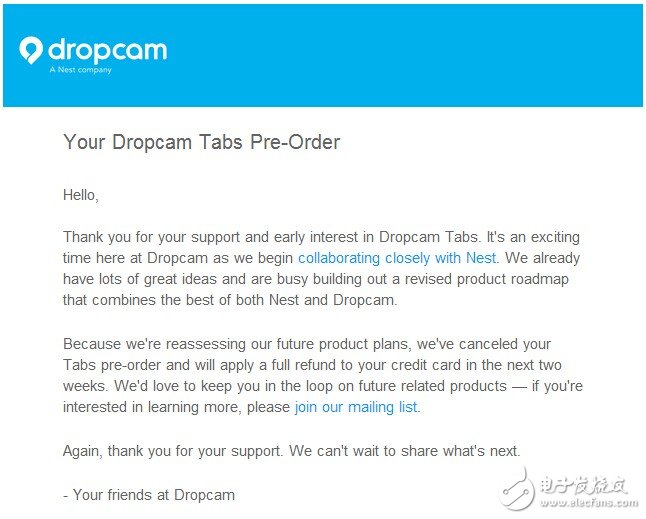 The establishment of Google's smart home product line centered on Nest
Tabs is designed with Dropcam as the core, like the new eyes for Dropcam. Google-Nest's product line is designed with Nest as the core, and the acquisition of Dropcam just wants to turn the latter into the eyes of Nest. The eyes don't need eyes anymore. The cancellation of Tabs also illustrates the establishment of a Google-based smart home product line centered on Nest. The future development of Dropcam is for the growth of Nest.
Dropcam won't have Tabs in the future, but Nest is likely to have its own Tabs, maybe "NestTabs" is already planning and even mass production.
To put it another way, this is why Google was the first to acquire Nest, and Nest was the one to acquire Dropcam.
New platform based on Thread protocol
So why not turn DropcamTabs directly into "NestTabs"? This is related to the technical level. Nest is Zigbee, and Tabs is based on Bluetooth. It is more difficult to connect with Google-Nest products.
The deeper reason, perhaps Google-Nest wants to do smart home system, is based on the WiFi+Thread protocol. Thread is a new ZigBee-based communication protocol launched by Samsung, Nest and ARM in July this year. The original ZigBee device is compatible with Thread only by updating the software. Taken together, Thread is likely to be a top-level architecture that works at the top level, like Apple's Homekit and Qualcomm's open source framework, AllJoyn.
If there is a battle for smart home in the future, Apple has already taken the next home with Homekit. In August this year, Samsung has confirmed that it has purchased SmartThings for US$200 million. Google is also actively deploying: In addition to Dropcam, Google has also partnered with Mercedes-Benz, Whirlpool and LIFX to integrate these products with Nest; recently Google launched ThePhysicalWeb project to develop a common web standard. , so that any device (not just Google's device) can be used to provide interaction and a set of services.
If Google has such a big platform ambition, a Tabs based on the Zigbee protocol will not only conform to the Google-Nest strategy, but also facilitate the future interconnection of Google-Nest products. Why not? In the future, Google-Nest's smart home system is likely to be such that the underlying Thread is responsible for the interconnection of products within the system, externally via WiFi to connect the network and other products, and at the interaction level, ThePhysicalWeb is responsible for unified interaction and services.
Where will Google-Nest go next?
Now Nest is more like the torso of the Google-Nest smart home system, and Dropcam is the eye. Then what other limbs will there be in the trunk? As a bystander, this is hard to say.
To achieve a closed loop of smart home, Nest is now doing the smart home's torso, Nest+Lifx is HomeEnerge (Home Energy), Dropcam is HomeSecurity, then the next one may be Home Entertainment (family entertainment).
The concept of living room entertainment has been raised for a long time, in addition to AndroidTV, Google still lacks competitive products in this regard. There are many products covered on the entertainment side, but it comes down to the simple: control, display, and connection. The connection side Google already has the Thread protocol, and the display side has AndroidTV, Chromebook and chrome browser, and the control terminal has a mobile phone and a tablet. On these three sides, there is obviously room for optimization on the console. For example, a bracelet that can open GoogleFit and Google-Nest smart home system may be possible.
Bulkhead Lamp,Led Bulkhead Lamp,Round Bulkhead Light,Bulkhead Ceiling Light
Changxing Fanya Lighting Co.,Ltd , https://www.fyledlights.com