Today, living in a modern and bustling city like ours, driving or walking on the streets of the city, outdoor LED displays can be seen everywhere. Nielsen, the world's leading market research authority, calls the outdoor LED display the "fourth screen" after TV, computer and mobile phone. How does the "fourth screen" have a close relationship with urban development and people's lives?
Outdoor media is being injected with a new element of information age
Outdoor advertising can be said to be a predecessor in all advertising media. It is closely related to the economy, culture and life of urban people. It is not only the medium of communication of goods and information, but also the true sign of the dynamic development of the city. These have accumulated valuable treasures that are irreplaceable in outdoor media. Modern urbanites gradually adapt to the fast-paced lifestyle, and the overwhelming information abounds. As a result, traditional outdoor advertising, such as big cards, light boxes, and buntings, cannot be provoked due to the constraints of use conditions and the single mode of exhibition. People's attention, market demand can not be fully satisfied. With the application of new technologies, new forms of outdoor advertising continue to emerge, and outdoor LED full-color display media was born under such a realistic background.
LED full-color display is a new type of information display media that has developed rapidly in the world in the 1990s. The reason why it can develop rapidly is not eliminated by fierce market competition. In the final analysis, there are the following points:
First, it combines modern high-tech, energy saving, environmental protection, colorful, can display dynamic pictures and text, wide visual range, large screen area, visual effects and so on.
Second, the LED display media has high-efficiency advertising characteristics, and the price is relatively low compared with media advertisements such as television and newspapers. This advantage makes the LED display media undoubtedly the new favorite of outdoor media.
Third, LED display media is different from traditional outdoor media. It has the characteristics and advantages of TV and other media, but it is not just an extension. It has more creative space and a broader space for interaction and communication with consumers. Can meet individual needs. Fourth, the outdoor LED display media and other various media forms complement each other, blending time and space, and stereoscopic communication, thus bringing the greatest media time and space integration value to advertisers.
Outdoor LED display to seize resource problems frequently
With the deepening of market analysis, the company's insight has increased dramatically, and the high expectations of outdoor LED display media advertising are favored by most people. In the meantime, media companies of varying sizes have begun to acquire resources and seize the market, hoping to eat as much as possible.
However, this "brain fever" phenomenon has also caused many problems. The outdoor LED display media has huge demand for funds. If there is no capital strength, it is difficult to rapidly expand and continue to develop in the industry. The financial crisis has swept the world, and local companies have been unable to withstand the loss. The budget for corporate advertising has inevitably decreased, making some LED funds that are not enough for capital, or unable to get capital to continue to inject, to face the serious consequences of the capital chain break.
In the fierce market competition, the inevitable trend is the survival of the fittest. Over the years, outdoor LED display media will eliminate a number of companies at every stage of development. What remains is the strong in the market with business model innovation and product quality. As an emerging media form after TV, computer and mobile phone, the outdoor LED display media industry needs to pay more attention to the actual needs, invest more energy and strength to build industry specifications and research and develop independent LED display innovation technology.

LED Panel lights, as one energy saving lights in the Daily life, has became more and more popular in the world. We've designed Led Driver for this type led lights: 12W,18W,21W,24W,36W,48W,72W,85W,95W ect.According to different application, different country's household voltage, and different environment using, we designed suitable dirvers for these different situation.
Our led panel lights driver was made out of different case: aluminum, Iron, plastic ect. With input&output terminals, easy to install, especially for Class P certifed series, esay to combine with your already certified lamps, and then saving a lot cost!
Parameter:
Input voltage: 100-277vac / 100-240vac / 100-130vac / 180-240vac / 100-347V
output voltage: 25-40vdc / 27-42vdc / 35-45vdc / 50-70vdc / 12Vdc / 24vdc
current: 100mA-8000mA.
Power factor: >0.9
Dimming:0-10V / PWM / RX / DALI / Traic.
>=50000hours, 3-5 years warranty.
certificate: UL CE FCC TUV SAA ect.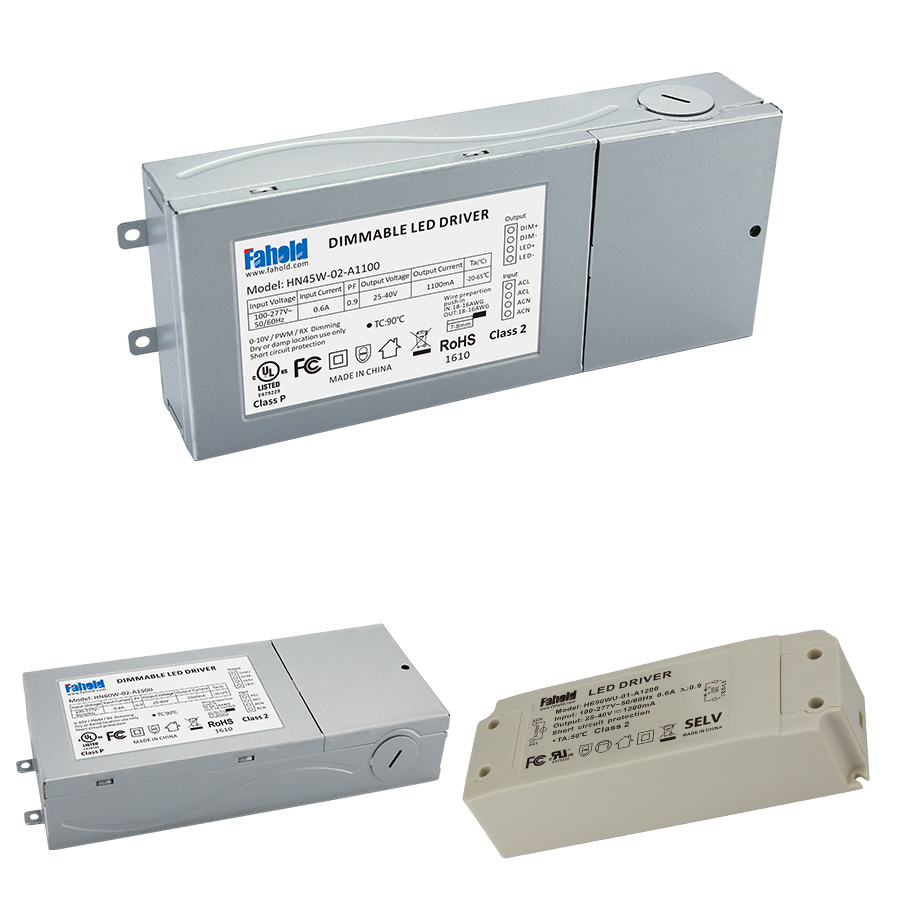 FAQ:
Question 1:Are you a factory or a trading company?
Answer: We are a factory.
Question 2: Payment term?
Answer:
30% TT deposit + 70% TT before shipment,50% TT deposit + 50% LC balance, Flexible payment
can be negotiated.
Question 3: What's the main business of Fahold?
Answer: Fahold focused on LED controllers and dimmers from 2010. We have 28 engineers who dedicated themselves to researching and developing LED controlling and dimming system.
Question 4: What Fahold will do if we have problems after receiving your products?
Answer: Our products have been strictly inspected before shipping. Once you receive the products you are not satisfied, please feel free to contact us in time, we will do our best to solve any of your problems with our good after-sale service.
LED Panel Lights Driver
Driver For Led Lights,Round Panel Lights Driver,Led Transformer
ShenZhen Fahold Electronic Limited , http://www.fahold.com