Author: TI company Steve Brown, Mathew Jacob
Design element
Powering digital image sensors in automotive camera applications involves a variety of different design elements. Image quality is an important indicator of whether such applications are profitable. High levels of image quality are essential in rainy, snowy, foggy and other difficult driving environments. The driver of the car relies heavily on the technology when reversing. If the main design elements of the analog power rail's low noise requirements, efficiency, and size are not optimized, a well-functioning solution in good weather conditions may not be suitable for harsh weather conditions.
Advanced driver assistance system
For example, the ApTIna AR0132 is a popular sensor with 1.2 megapixels and 720p60 resolution for high dynamic range imaging for automotive advanced driver assistance (ADAS) and surround view/parking assisted camera applications. The core (VDD) and I/O sections (VDD_IO) require 1.8V, and the analog sections (VAA, VAA_PIX, and VDD_PLL) require 2.8V. Obviously, the analog portion of the chip is more susceptible to its power line noise. Many designs use a low dropout regulator (LDO) to downconvert all power from the 5V input rail.
Design goals
The overall goal is to provide a practical power system implementation for the AR0132AT image sensor, enabling its successful integration into automotive applications and packaging. While the details of other sensors and systems may vary, the principles discussed in this article have general applicability.
The size of the image sensor is very important because it must be incorporated into a 25 mm cube, which puts high demands on overall efficiency and good thermal management. Although the LDO has a low-noise output, its high power consumption can cause adverse effects on the image sensor, so it is not ideal for working in a 25 mm cube.
Switching power solutions consume much less power, but inherently have higher output ripple and noise. When implementing a switching power supply solution, additional attention needs to be paid to the noise (ripple) sensitivity of the image sensor to its analog input power rail.
designing process
In order to design a power system that can efficiently supply image sensors, it is necessary to know the sensor sensitivity level and the ripple output of the switching power supply in order to take appropriate design steps to reduce the ripple on the sensor supply rail below the degradation threshold.
Image sensor noise threshold measurement
The simple circuit in Figure 1 is used to define the noise threshold for each sensor power rail.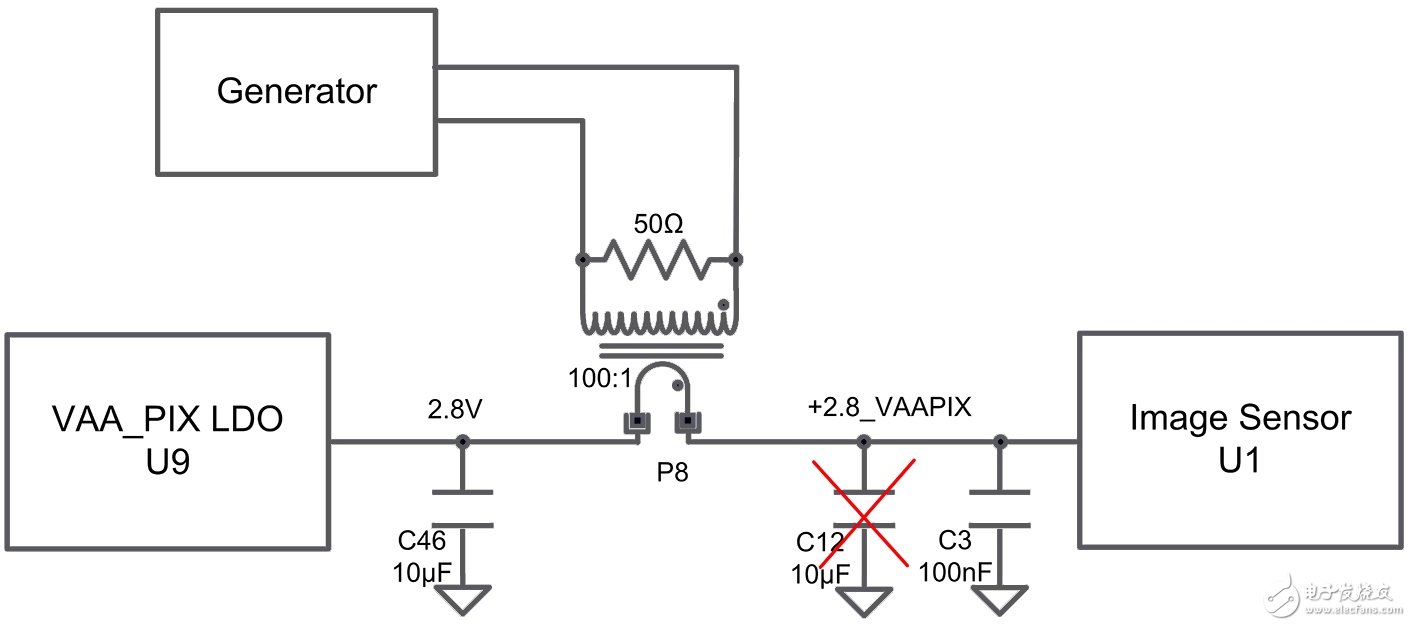 Figure 1 noise threshold test circuit
By observing the image quality with the ApTIna Devware development software running on a laptop, we saw that the generator frequency was increased from 50 kHz to 5 MHz. In the case of sensitive orbits, the signal size will continue to diminish until visual artifacts no longer appear.

   This article is selected from the Electronic Consumers Network July "Auto Electronics Special Issue" Change The World column, please indicate the source!


This is an iPhone 6S (4.7 inches) ,iPhone 6S Plus (5.5 inches) display assembly/screen replacement part. (LCD, digitizers, and Front Panel all assembled together)
Repair your damaged/broken/cracked/shattered/Non Responsive iPhone 6S,iPhone 6S Plus screen with this set. This display assembly will only compatible with an iPhone 6S, iPhone 6S plus.
Tips:
· This IPhone 6S Plus LCD Digitizer Replacement includes the components as mentioned above, it does not include the small parts. Please do not confuse it with the iPhone LCD Assembly with Small Parts.
· Please test LCD assembly function one by one 100% before installation.

iPhone 6S/6S Plus LCD Digitizer
IPhone 6S Plus LCD,IPhone 6S Plus LCD Screen,IPhone 6S Plus Replacement
Shenzhen Aokal Technology Co., Ltd. , https://www.aokal.com