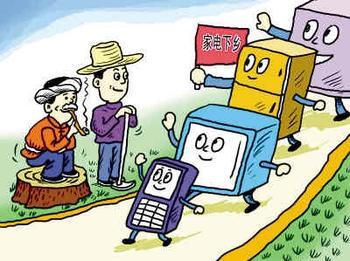 According to reports, the policy of implementing home appliances to the countryside for many years will end at the end of this month. The Ministry of Commerce stated that it will develop new consumption stimulus measures around green consumption, hot-spot consumption and
Other
aspects. CCTV reporter Chen Liang reports:
As of the end of December 2012, the country has sold 298 million units of home appliances to the countryside and achieved sales of more than 720 billion yuan. By the end of this month, the five-year and one-month policy on home appliances to rural areas will end as scheduled.
The Ministry of Finance, the Ministry of Commerce, and the Ministry of Industry and Information Technology require sales outlets to immediately remove the "Home Appliances to the Countryside" shop after the expiration of the policy, cancel all propaganda materials related to home appliances to the countryside, cancel the counters for home appliances to the countryside, and refrain from using appliances to the countryside. Nominate for any form of publicity.
Yao Jian, spokesman of the Ministry of Commerce, said that after the expiry of the home appliances to the countryside policy expires, it will not be extended. This year, the Ministry of Commerce will launch new consumption stimulus measures around green consumption and hot consumption.
Yao Jian: How to strengthen the market planning for expanding consumption and further improve the standards and regulations, how to further urban and rural co-ordination, especially in the expansion of urbanization, and at the same time supplement the necessary government support measures, including financial subsidies, in particular In response to the crisis, the transition to a market-oriented reform stage has a better balance with both considerations.
The policy of home appliances to the countryside has played an important role in improving the quality of life of farmers, expanding rural consumption, and coordinating domestic and foreign markets. At the same time, however, many home appliance companies also suffer from policy subsidies. Zhao Ping, deputy director of the Consumer Economics Research Department of the Ministry of Commerce, believes that relying solely on subsidy policies to make consumers more expensive is a misunderstanding of the expansion of consumer policies.
Yao Jian: Regardless of whether the government supports the consumption of products in this industry, it does not support Ye Hao. Enterprises increase their input to speed up the upgrading of their own products. It is a good development direction to promote the upgrading of consumer structure through science and technology. .
It adopts high-quality battery monomers grouped and screened and designed by special mechanical structure to assemble all ranges of built-in BMS batteries. Our Battery Management System(BMS) are specially designed for the rechargeable batteries of battery packs used for automated guided vehicles(AGVs), electric vehicles(EVs) Batteries, electric forklifts, electric pallet trucks and other material handling equipment.
BMS For Nickel Cadmium Battery
Batterie Management System,Smart Battery Management System,Nickel Cadmium Battery Management System,Bms For Nickel Cadmium Battery
Xinxiang Taihang Jiaxin Electric Tech Co., Ltd , https://www.agvchargers.com