Neubiberg , Germany, April 16, 2013 -Infineon Technologies AG (FSE: IFX / OTCQX: IFNNY) today released a transceiver product that can replace more than ten independent devices to simplify system design and production line. Due to lower power consumption, this highly integrated single-chip transceiver can also help reduce the fixed cost of high data rate millimeter wave wireless backhaul communication systems. The new products are for wireless data links with data rates exceeding 1Gbps between LTE / 4G base stations and the core network.
Infineon BGTx0 devices are packaged in standard plastics, and one chip can replace more than ten discrete devices used in existing system designs. For customers who continue to use standardized SMT patch assembly processes, it can greatly simplify the assembly process.
The BGTx0 product line is equipped with an RF front-end for wireless communication systems using the 57-64 GHz, 71-76 GHz or 81-86 GHz millimeter wave bands. In addition, the system solution also integrates baseband / modem functions, which can reduce board space, improve the reliability and reduce the cost of critical wireless backhaul links required by base stations supporting LTE / 4G networks.
Philipp von Schierstaedt, vice president of Infineon Technologies and general manager of the RF and protection device business line, said: "The V- and E-microwave frequency bands available for LTE / 4G backhaul transmission can support data rates equivalent to three Correspondingly, they require extremely high RF performance to meet operational needs. By launching a new transceiver product line, Infineon takes full advantage of its advanced process and RF design expertise to help system designers reduce complexity and simplify production Work, ultimately improving the quality and reliability of its backhaul transmission solutions. "
The BGTx0 transceiver integrates all RF components on a compact chip, including I / Q modulator, voltage controlled oscillator (VCO), power amplifier (PA), low noise amplifier (LNA), programmable gain amplifier (PGA), SPI control interface, etc., using embedded wafer level ball grid array (eWLB) package. The built-in self-test (BIST) can be used to verify and calibrate the RF performance during the production process, which helps to simplify the process of loading the chip into the final product of the equipment manufacturer on the production line.
The excellent RF performance of the SiGe process-including power amplifiers with output powers up to 18 dBm, low noise amplifiers with noise figures as low as 6 dB, and VCO phase noise better than -85dBc / Hz (100kHz offset) allow system design People implement high-level modulation schemes, such as QAM64 with a sampling rate of 500 million signal samples per second, or QAM32 with a sampling rate of 1 billion signal samples per second when the bit error rate is 10-6. The device's ESD performance exceeds 1kV, which improves the robustness of the customer's system design and simplifies design tasks. The power consumption of the backhaul transmission transceiver product line is less than 2W, which can reduce the power cost of network operators. This series of products uses a direct conversion architecture. Compared with current discrete millimeter wave systems, it can greatly simplify the interface design between RF and baseband.
In addition, system suppliers can also benefit from the quality and reliability of Infineon's automotive-quality SiGe IC production process.
Supply
Engineering samples of the BTGx0 product line will be launched in September this year, with mass production plans beginning at the end of the year.
For more information, please visit.
About Infineon
Infineon Technologies AG, headquartered in Neubiberg, Germany, provides semiconductor and system solutions for the three major scientific and technological challenge areas of modern society—energy efficiency, mobility, and security. In fiscal year 2012 (as of September 30), the company achieved sales of 3.9 billion euros and had approximately 26,700 employees worldwide. Infineon Technologies has operations all over the world, with branches in Miupida, USA, Singapore, Asia-Pacific, and Tokyo, Japan. Infineon is currently listed on the Frankfurt Stock Exchange (ticker symbol: IFX) and the U.S. over-the-counter market (OTCQX) InternaTIonal Premier (stock code: IFNNY).
Infineon in China
Infineon Technologies AG officially entered the Chinese market in 1995. Since the establishment of the first company in Wuxi in 1996, Infineon's business has achieved very rapid growth. With more than 1,300 employees in China, it has become an important driving force for the development of Infineon's Asia-Pacific and global businesses. Infineon has established a complete industrial chain covering R & D, production, sales, marketing, technical support, etc. in China, and has carried out in-depth cooperation with domestic leading companies and universities in sales, technical research and development, and personnel training. Cooperation.
Cat5e cable, Cat6 is a "twisted pair" network cable used for 1000BASE-T Ethernet applications at speed of up to 550MHz of bandwidth. This cable is preferred for more advanced networking installations where a higher bandwidth than normal is required.
Our bulk 1000ft stranded Cat6 Ethernet cable comes in an easy to use pull box and is ideal for the person looking to make a variety of Patch Cables over a larger job or for one looking to be prepared to handle unexpected situations on the network infrastructure.
Cat6 Cable is used in network applications and have been designed specifically for Gigabit Ethernet applications. They perform at high-data transfer rates, and work with ATM and gigabit speed products.
This particular cable is a gray UTP (Unshielded Twisted Pair) stranded cable. The individual conductors are 24 AWG (American wire gauge) stranded pure copper. Pure copper conductors provide the best signal possible. Cat6 cable includes a spline to help ensure separation between the pairs which limits cross talk. Our Cat6 Ethernet cable exceeds the EIA/TIA-568-C standard.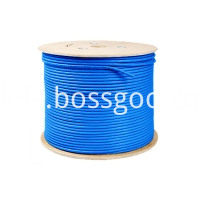 Bulk Cables,Bulk Ethernet Cable,Bulk Power Cable,Bulk Hdmi Cable
Shenzhen Adela Technology Co., Ltd. , https://www.adelafiber.com