Introduction: Configuring mobile high-definition interfaces on mobile phones is a new selling point. However, there is currently no unified standard. The industry also extends the competition in the PC / consumer electronics market to the field of mobile phones. MHL and MYDP are compatible with MYDP. SlimPort, who will win?
There are signs that the battle for high-definition multimedia interface standards represented by HDMI / DisplayPort is currently spreading from HDTV / PC to the field of smartphones / tablets, and there is a growing trend. Although the mobile industry has never made a clear choice about the interface that can transmit high-definition video from a smartphone to an external HDTV, as the ecosystem of standards such as MHL (Mobile High-DefiniTIon Link), MYDP (Mobility DisplayPort), and SlimPort continues to expand , A fierce head-on confrontation seems inevitable. So, who will be more attractive?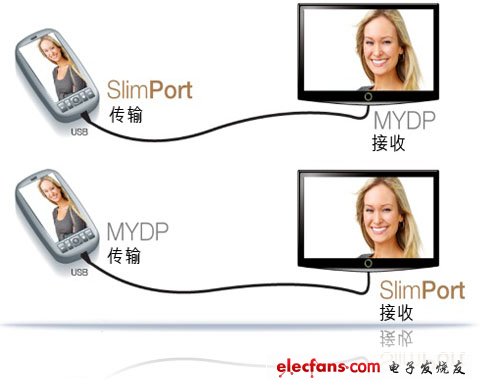 The prelude to the war has begun
In April 2010, Silicon Image and Nokia, Samsung, Sony, Toshiba and other companies formed the MHL Alliance to develop a new mobile audio / video interface standard and use it to connect mobile phones and other portable devices to HDTV (HDTV) and display. Its technical feature is that it can realize the output of high-definition content (1080P / 60) and up to 8-channel linear pulse code modulation (LPCM) surround sound and compressed audio through only one signal line and standard HDMI input interface, and is perfectly compatible with commonly used Micro-USB interface. Compared with the 19-pin HDMI interface, MHL only needs 5 pins to provide 1080P playback, and provides 5V voltage and 500mA current to power and charge portable devices.
On the other hand, Analogix's new SlimPort series transmitter and receiver chips use the same basic technology as DisplayPort, and are fully compatible with MYDP driven by STMicroelectronics. MYDP is also a digital mobile interface specifically designed for the mobile market and designed to reduce the number of digital signal pins. Earlier this year, ST submitted MYDP as part of the DisplayPort standard and submitted a proposal to the Video Electronics Standards Association (VESA).
MYDP and MHL are actually trying to accomplish the same thing. Citing the EETImes report, Randy Lawson, chief analyst of iSuppli Display Electronics and Consumer Markets, pointed out, "I believe that despite the slow start of MHL, MHL still has hope." He described HDMI as the "actual high-definition display interface standard" because it is ubiquitous in the HDTV field, and in the mobile field, the HDMI transmission rate is also growing. "This seems to reinforce MHL's view that it has full access to applications in the future," he said.
Wang Guitian, president of MHL, LLC, believes that the key difference between MHL and SlimPort / MYDP is the power consumption when transmitting video streams. For example, Samsung 's first Galaxy S II smartphone equipped with MHL can use standard Micro USB interface to connect uncompressed 1,080P video and audio content to an external HDMI display device through a lightweight five-core cable. And charge the mobile phone while playing multimedia content. "And this is something our competitors can't do at all." He also revealed that the number of licenses issued by the MHL Alliance has soared from 15 at the beginning of the year to the current 73, while other standards are progressing slowly. Most of them only stay on verbal propaganda. "

Our company is specialized in supplying Can Tap Valve.We provide you valves for different cap of different refrigerant and anti-explosion valve with one-way valve inside to insure safety. It applies to wide range of applications, like installation and maintenance of household air conditioner,automobile air conditioner,refrigerator,cold room and other industries .OEM and customization is welcomed.Our parts have been exported to over 50 countries all over the world and are always got good comment by customers.
Can Tap Valve
Can Tap Valve,Can Tap Valve Hand Valve,Refrigeration Brass Can Tap Valve,Refrigerant Gas Opener
ZHEJIANG ICE LOONG ENVIRONMENTAL SCI-TECH CO.,LTD. , https://www.china-refrigerantgas.com