Netled has applied millions of OSRAM Opto Semiconductors' TopLED family of LEDs to horticultural lighting systems. These LEDs are designed and installed in a curtain structure consisting of 10 25-meter-long strips of light to replace the high-pressure nano-lamps used in the greenhouse. These luminaires deliver the right wavelength and intensity and are expected to save up to 60% energy.
High-pressure sodium lamps have been widely used in the horticultural industry to create the right environment for plant growth in the darker seasons. A one-hectare greenhouse typically using high-pressure sodium lamps consumes about 10 billion watt-hours per year. Netled's Niko Kivioja pointed out: "A lot of research shows that among the light emitted by high-pressure sodium lamps, plants only absorb 7%, the efficiency is very low, and most of the energy is wasted. By replacing with LED lighting, energy-saving targets can be achieved immediately. For greenhouse lettuce cultivation, energy consumption can be reduced by 20% to 30%."
The patent-pending curtain structure not only stimulates plant growth with low energy consumption, but also reduces "light pollution" to the skyline. In areas with high population density such as the North and Asia, reducing "light pollution" has become a topic. .
In addition, according to the latest research, certain wavelengths and color temperatures can promote the growth of fruit yield, weight or biomass. For example, the use of pre-set light during tomato growth reduces the energy consumed per kilogram of plant. Taking cucumber as an example, the yield can be increased by more than 20%, the quality of vegetables is also improved, and the production season is extended.
Netled's Niko Kivioja also said: "Finland's electricity price has climbed more than 15% every year, which is driving the food industry to make great changes in the next few years. Netled is committed to providing economically viable solutions to reduce lighting costs in horticultural production. A positive contribution has been made to this change."
Greenhouse cultivation is becoming more and more important, and the plantability of high-yield and high-demand plants is also increasing. Scandinavia's total greenhouse area is currently only 1,400 hectares, compared to 2,000 hectares in Canada and 2,100 hectares in Japan. In addition, LED lighting has significant market potential in these countries and regions due to the significantly shorter daylight hours in Northern Europe, Central Europe and Canada.
Zhong Jiecong, Marketing Director of Asia Pacific at OSRAM Opto Semiconductors Asia Ltd., said: "The Hungarjoki LED installation project is of great significance for greenhouse cultivation in Scandinavia. At the same time, it also proves that LEDs are small and high. Features such as efficiency and long life give lighting designers a more flexible design space, allowing them to more freely turn ideas into reality."
The project was initiated and promoted by Netled, designed and developed by Amity, and the lighting system was manufactured by BCM Malaysia.



LED horticultural lighting system for plant growth
Emi Shielding Fabric Over Foam Gasket
FOF GASKET
Wrapped open cell pu foam by
Cu+Ni conductive fabrics
,
black fabric
or
aluminum foil
used for
EMI-RFI shielding
.
Any shapes, size
and I/O or
D-SUB gasket
are avaliable as customer design. The most popular are rectangular shape ,D shape,Bell shape ,C fold or P shape.
Specification:
1) Surface resistance: ≤0.05Ω/inch (100g load capacity)
2) EMI effectiveness:90- 100dB/20MHz - 10GHz
3) Thermal temperature : -40° - 110°
4) Adhesion strength: ≥1.3kg/25mm
5) Initial adhesion strength: 1,600g/25mm (non-conductive type)
6) Maintained adhesion strength: 1,440min/inch
7)Fire rating: UL94-V0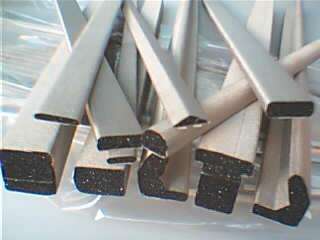 Fabric Over Foam Gasket,Emi Shielding Fabric Over Foam Gasket,Fabric Over Foam Emi Gasket,Conductive Fabric Over Foam Gasket
JINAN EMI SHIELDING TECHNOLOGY CO., LTD. , http://www.emirfi.com