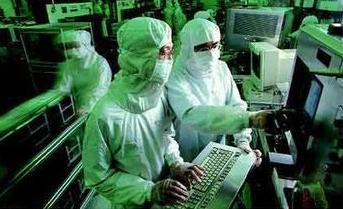 As Intel begins to seize TSMC's business, TSMC will accelerate the development of advanced process technology and hopes to catch up with Intel in the 10-nanometer space.
Jiang Shangyi attended the IC Industry Alliance of Tsinghua University to perform the activities of the IC Industry Alliance yesterday. After the meeting, he accepted a reporter's visit and revealed for the first time the TSMC's response to Intel's indirect competition. The industry believes that Intel has not yet released a production timescale of 10 nanometers. Taiwan Semiconductor Manufacturing Co., Ltd. spearheaded the goal of 10 nanometers and has already tried to fight Intel's taste.
TSMC's stock price came into the market this year with a new high price of 109.5 yuan, with a final price increase of 2 yuan. The closing price was 108.5 yuan, and the market value of 2.8 trillion yuan was converted. The gap with Intel's market value of 3.3 trillion yuan narrowed to become the world's second largest market value after Intel. Semiconductor factory.
The processor chip is in the heart of the personal computer and has always used the most advanced and cutting-edge process technology. Intel is the leading processor in the world and its manufacturing process is ahead of the global semiconductor industry. Jiang Shangyi emphasized that TSMC had not used OEM chips in the past and transistor technology was behind Intel. However, TSMC hopes that 10nm technology will fully catch up with Intel.
Altera, an important customer of Taiwan Semiconductor Manufacturing Co., Ltd., signed an OEM contract for 14nm Finfet with Intel earlier this year. In response, TSMC chairman Zhang Zhongmou used the term "Hate" to describe the loss of regret in last week's law.
Zhang Zhongmou believes that Intel will not fully compete with TSMC, but TSMC customers such as Qualcomm, Broadcom, and Nvidia are using ARM-based processors to develop mobile device chips. This batch of ARM camps compete with Intel and are also TSMC customers. Intel is also very serious about it.
Jiang Shangyi stated that the production time of TSMC's 16nm Finfet is only one year later than 20nm. Compared to the past two generations of advanced processes, it takes two years from R&D to mass production, and today's process conversion time is greatly shortened. "This is a special case. Is also forced by the customer."
TSMC must upgrade its technology in a short period of time to enable its customers to compete with Intel. TSMC's strengths are through its Open Innovation Platform (OIP) and its customers' wafers, silicon intellectual property (IP), and verification tools. Process Miniaturization, Systematic Chips, and Manufacturing.
TSMC 20nm is expected to mass production in the second quarter of 2014, and it will produce 16nm Finfet in 2015. Jiang Shangyi stated that alternating 16 nanometers to 10 nanometers will restore the speed of the replacement of an advanced process generation in the past two years. That is, 10 nanometers is expected to be produced in 2017.
About Engraved Silicone Bracelet:
When we see all kinds of flat silicone bracelet on the market ,we can't wait to think about ,we don't like the same items everywhere ,we like something different!Many years ago,our factory had the ability to do silicone bracelet with their debossed logos and images ,all of the different kinds ideas can be engraved on the wristband ,this is fantastic ,and every details keeps deeply in people's heart when they view it ,would you like to do something special?
Engraved silicone bracelet description:
1.Product name:Engraved Silicone Bracelet,engraved silicone bracelet,Debossed Silicone Wristband, Engraved Bracelet ,Custom Engraved Bracelet, Debossed Rfid Wristband
2.Place of origin:Guangdong China
3.Color:any pantone color is available
4.Logo:debossed/engraved
5.MOQ:500pcs.
6.Package:opp bag,customized design is available.
7.Design:Customized
8.Certification:FDA,LFGB,SGS,ROHS,etc.
9.Usage:Gifts/Sports
10.Engraved silicone bracelet photos for reference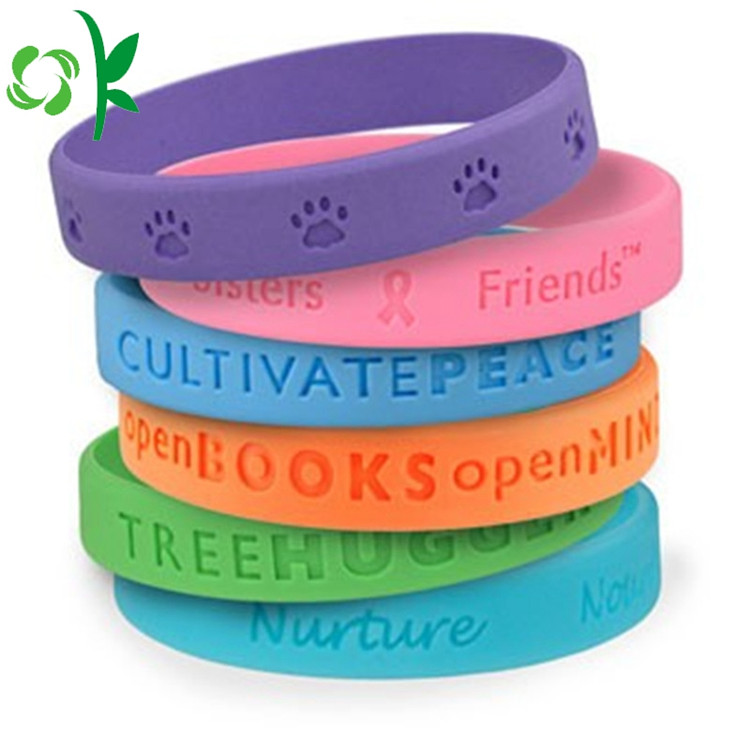 Engraved Silicone Bracelet,Debossed Silicone Wristband,Engraved Bracelet,Custom Engraved Bracelet,Debossed Rfid Wristband
OK Silicone Gift Co., Ltd. , https://www.oemsiliconegift.com